Costa Rica's Best Adventure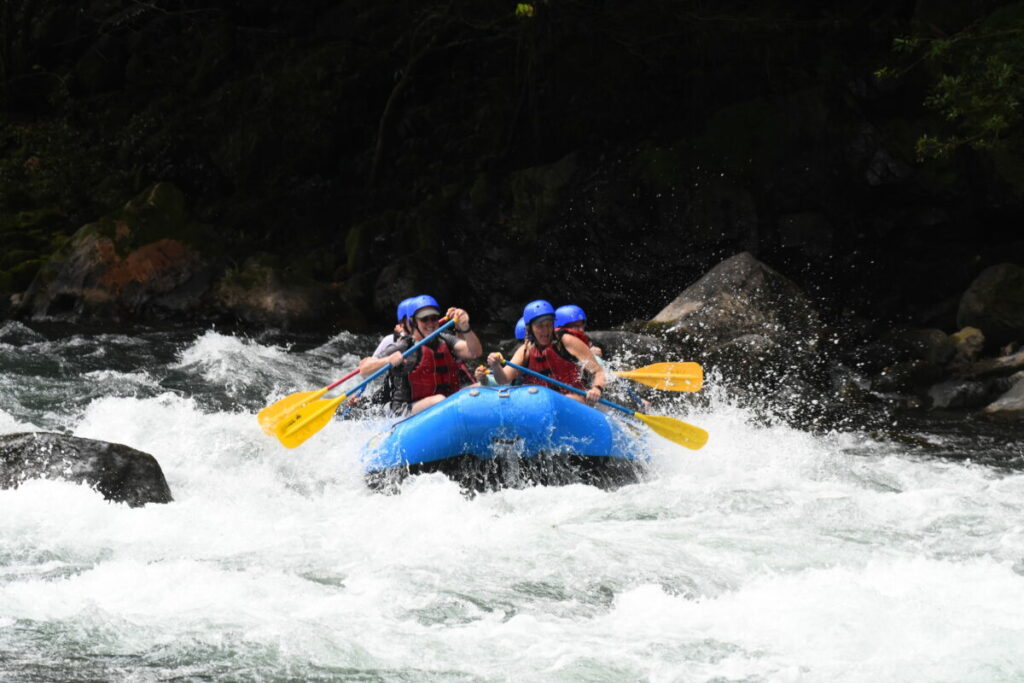 Costa Rica has many adventures to choose from but only one takes you to the heart of Costa Rica. Whitewater rafting in Costa Rica is one of the most memorable experiences you can have on your visit.
The steep terrain, rainfall, and year-long warm weather make Costa Rica one of the top destinations on the planet for whitewater rafting. You can visit Costa Rica anytime during the year to enjoy whitewater rafting on the many different rivers in Costa Rica.
Types of Rivers in Costa Rica
Costa Rica is a small country about the size of Vermont but due to its rugged terrain, the country is filled with endless amounts of diversity in its topography. You will soon realize after driving around Costa Rica that you are always crossing a bridge as rivers are everywhere.
Costa Rican rivers flow in one of two directions. The river will either be a pacific flowing river that dumps out into the pacific ocean or a Caribbean flowing river that dumps into the Caribbean.
If you look at Costa Rica from a topographic map you will notice that it looks like it has a spine that divides it down the center. This is the central mountain range and it is home to the birth of many of Costa Rica's most beautiful rivers on both the Pacific and Caribbean slopes.
The central mountain range is known for being very steep. Costa Rica on average is only 70 miles wide but the central mountain range gets up to 13,000ft in elevation. This means that water running down the mountain range is running fast! If you have fast-running water for millions of years you end up having some very deep canyons offering some of the most spectacular scenery you will find in the tropics.
The fast water flow over the years also forms what we refer to as a pool and drop river. Most rivers in Costa Rica are pool and drop rivers. You can paddle through a rapid and end up in a pool. After a short float in the pool, you are back in a rapid which is followed by another pool. This type of river in Costa Rica is your most scenic, remote, and bigger rapid with a nice chance to rest in a pool before the next rapid.
There are some rivers in Costa Rica that have sections that are continuous rapids. These types of rivers have more consistent action but are usually located in lower areas that are more wide open offering slightly less of a view than being in a canyon.
Best time to Raft in Costa Rica
If you are wondering when the best time to raft in Costa Rica is it really depends on what you are looking for. The main condition that affects rafting in Costa Rica is the water level. Unlike other areas of the world where whitewater rafting is popular Costa Rica has the same water temperature all year. The water temperature is in the low 80s and you never need special gear to keep you warm. This is probably one of the best parts of the rafting industry in Costa Rica. We have year-long rafting in nothing more than shorts and a T-shirt (helmet and life vest of course also).
The water levels depend on the rainy months in Costa Rica. Most of the country has its rainy months from September to December. This is when your rivers are running high and at their level to maximize adrenaline and adventure. The one downside to this is that the rivers are a light brown color. The topsoil in the rainforest slides down and gives the rivers this color.
The more common time to raft is from January to August. During these months the rivers are running lower but they are more picturesque. On low water days, you will have crystal clear water. A slightly higher water level will turn the rivers a beautiful green color. If there is more rain it will just gradually turn from green to light brown.
We like both times of the year. We love seeing the river with its majestic crystal clear look but we also love some adrenaline in the rainy months. It's a win-win!